Base-line E.coli Levels Determined for Lake

October 2014

Early in September, our Water Steward, Dave Dolson, and Co-chair, Bob Beccarea, weighed anchor and set out in a rental boat to 12 pre-determined sampling sites on Miller Lake. The hunt was on for E.coli.

In order to compare historic readings, Dave chose the sites based on previous maps designed for testing. Problem is, when the Department of Public Health used to test samples for free, our Group would send in 47 samples for a very precise picture of lake-water safety. Now that it costs us $28 per sample, our funds and investigations are limited. We decided to test 12 sites in the most populous areas of Miller Lake.

Here's what Dave found:

We had the water tested for E.coli, as a general indicator of fecal contamination in the water.

Of the 12 samples, 5 sites were zero, 6 sites were between 1 and 3, and one site was 46 e-coli/100mL.

Health Canada's guideline for issuing a swimming advisory is over 200 e-coli/100mL.
(Reference: http://www.hc-sc.gc.ca/ewh-semt/pubs/water-eau/guide_water-2012-guide_eau/index-eng.php)

Although we are not sampling the water often enough to make any assertions about safety, there is nothing alarming arising from this testing.

The testing will form a base-line for future testing, as we will visit the same locations in the future.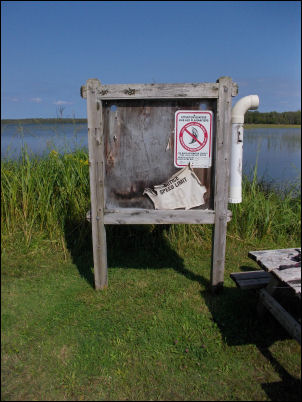 And where was the highest reading found by Dave and Bob? Predictably, it was near the southwest end of the lake at 3 Miller Lake Shore Road, a public access area. This area is very shallow and is near the drainage outlet for the entire lake.
We owe a debt of gratitude to Bob and Dave Dolson in particular for taking the time and energy to help protect all property owners on Miller Lake.
How You Can Help!
Pretty simple - Get your septic system pumped out regularly, once every 3 years max.
And while you're getting it pumped, have it checked for leakage. Leaky septic systems are the NUMBER ONE cause of high E.coli counts in recreational waters. And E.coli can kill.
---
Spring Cleaning 2014
A loyal band of volunteers (who had survived the worst winter EVER!) showed up for some Spring road-cleaning on Saturday, May 17. The weather was chilly, but kindly refused to rain.
Under the direction of Maggie Vaivods, all the roads surrounding Miller Lake - including East Road - were returned to a semblance of natural beauty. Many beer bottles were collected, along with cigarette butts, pop bottles, plastic wrap, and diapers. The group even took the time to sort the trash for recycling.
Once again, Carol and Bill Schultz kindly offered coffee and treats for the entire gang at their place. Thanks to them, and everyone who turned out to help.
---
Adopt-a-Road 2013
We had gorgeous weather for this year's Adopt-a-Road clean-up, and some very cheery volunteers.
On Saturday, September 28, about a dozen of us met at the dumpsters on Tammy's Cove Road. This area is typically the messiest part of our turf. At first, things didn't look too bad. Obviously, some conscientious residents have been cleaning the dumpster area throughout the summer, and thanks to whoever has made that effort for all of us.
However, after we got into the forest on both sides of the road, it became clear that the bears have been very busy, as per usual. Garbage had been dragged deep into the forest, and we set to work.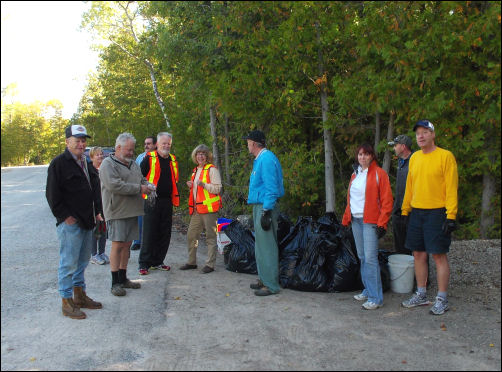 With the size of this contingent, things went quickly, and after 45 minutes, we had gathered TWENTY bags of garbage. The bears were very annoyed.
Over on Barney's Blvd., Elizabeth Smith had taken it upon herself to walk the road and clean the shoulders earlier in the week. Thanks to her for that!
After our official clean-up, the gang retired to Carol and Bill Schultz's place for coffee and treats provided by various members. That gathering was really fun, and it was great to catch up with neighbours you rarely see.
Our thanks to Maggie for organizing the day, Carol and Bill for hosting, everyone who brought tasty treats for the get-together, and the whole gang for helping to keep our community pristine.
---
Orphan Boards Need TLC! (Autumn 2013)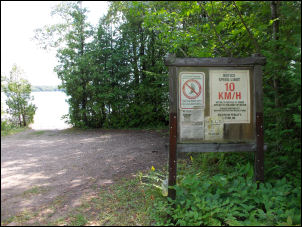 In the mists of time (no one seems to remember when), our Group built five announcement boards. These were stationed at boat launches around Miller Lake.
Picture Right: 256 Barney's Blvd.
At the last two general meetings, members have noted that these boards are sadly neglected and need some updating and maintenance. So, in August, I went hunting for our wayward creations.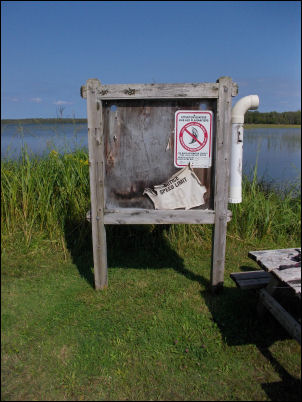 I drove around the entire lake, and managed to find 4 of them. What we need is a kind volunteer or volunteers to help rehabilitate our neglected orphans.
Generally, the condition of the boards is quite good. I didn't notice any rotting or instability in the actual structure. Three of the boards have a plastic tube attached, which is intended for the safe disposal of fish-hooks and sinkers. One of them was merely stuffed with garbage.
Right: 3 Miller Lake Shore Rd.
The display area is 3' x 3', with a plexiglass cover. One cover was broken and needs to be replaced.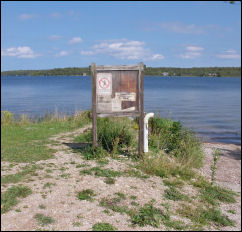 This area can be accessed by removing a panel on the rear of the board. The sliding locks are severely rusted and need some WD40 to be functional.
Right: 162 Miller Lake Shore Rd.
As to what should be displayed, the speed limit sign is a good idea. New one- sheets could be obtained from Transport Canada. A poster on protecting endangered species, such as the Massassauga and turtles, as well as associated fines would also be good. A reference to our web site for more information should be posted. Fire permit signs, species of fish in the lake - all sorts of things could be displayed.
If anyone wants to take on this challenge - and it really doesn't have to be a big project - please contact me to get it organized. And if anyone can find the FIFTH board, please let us know!
Right: 324 Tammy's Cove Rd.
---
Annual General Meeting - Lots to Think About!

August 1, 2013

In spite of absolutely gorgeous weather (or perhaps because of it!), we had very good attendance at this year's AGM on August 1.

We covered a lot of ground. Co-chair Bob Beccarea had sent many of the issues raised by last year's Lake Survey to Jakob Van Dorp, the Planner for North Bruce Peninsula. Bob briefly outlined the Planner's response to topics such as backlot development and shoreline construction. Mr. Van Dorp's full response will be posted in our AGM section.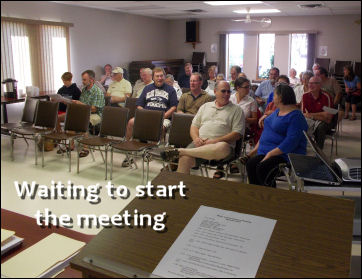 Sean Liipere, the co-ordinator of the Bruce Peninsula Biosphere Association, addressed climate change and its effects on Miller Lake. He talked about the current state of the lake and ways to maintain its good qualities in future.
Mayor Milt McIver gave his annual report on municipal expenditures and answered audience questions about paving and the proposal for mandated septic system inspections.
Co-chair Randy Gulliver offered a general overview of our Lake Survey results. As he pointed out, only one question on the entire survey had 100% agreement - concern about the water quality of the lake.
Bob also gave a brief overview of cottage succession, and the best ways to plan for it. Number 1 - Do your kids even want the place?
A lot of information was packed into the meeting, perhaps too much. Next year, we'll trim a topic to allow more time for audience questions.
After the meeting, many people enjoyed our yearly barbecue, including one verified celebrity, Sue Johanson, who was here to listen to Sean's presentation. Thanks to everyone who contributed salads and treats to the meal.
Full details from the Minutes are posted in our AGM section, with links and related information.
---
Adopt-a-Road Fall 2012

October 2012

If you ever wondered why Adopt-a-Road is such a worthwhile service for our Group to be involved in, take a look at the photo below: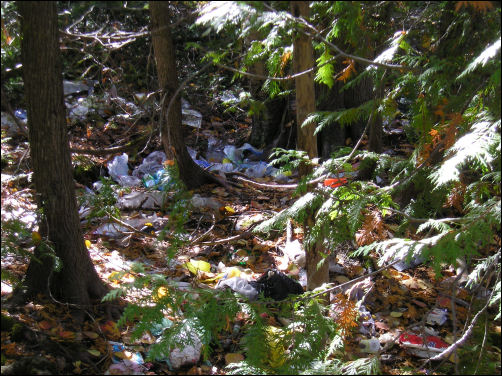 Careless residents and habituated bears turn the forest floor into a dangerous carpet of garbage every year. There are inevitably hundreds of items that should be in recycle bins - not in the dumpsters - such as plastic jugs, water bottles, beer bottles, cardboard boxes - you name it. Yes, it's more work to separate garbage and take recyclables to Ferndale or home, but if you're too lazy for that, you don't deserve to be in such a beautiful location in the first place.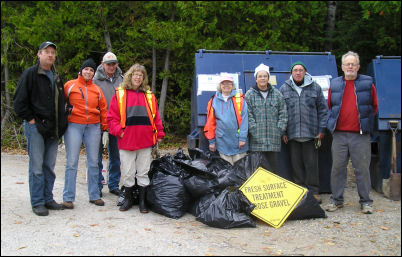 People who DO deserve to be here are the folks who volunteered to clean up their fellow cottagers trash once again this year. In addition to the crew pictured here on Tammy's Cove Rd., a few other civic-minded individuals scoured Miller Lake Shore Rd. and Barney's Blvd. The weather was cooperative; after several days of rain, it was overcast and cool, but no showers dampened the gang. After the clean-up, organizer Maggie Vaivods hosted volunteers at her cottage for coffee and treats, including some tasty sweets provided by Carol Schultz.
Thanks to everyone to came out to help. The forest is looking much cleaner, and we hope that more people get involved next year.
---
AGM 2012 - Letter to Council

September 2012

Following our Annual General Meeting in August, President Maggie Vaivods summed up the Group's concerns in this official letter to Council: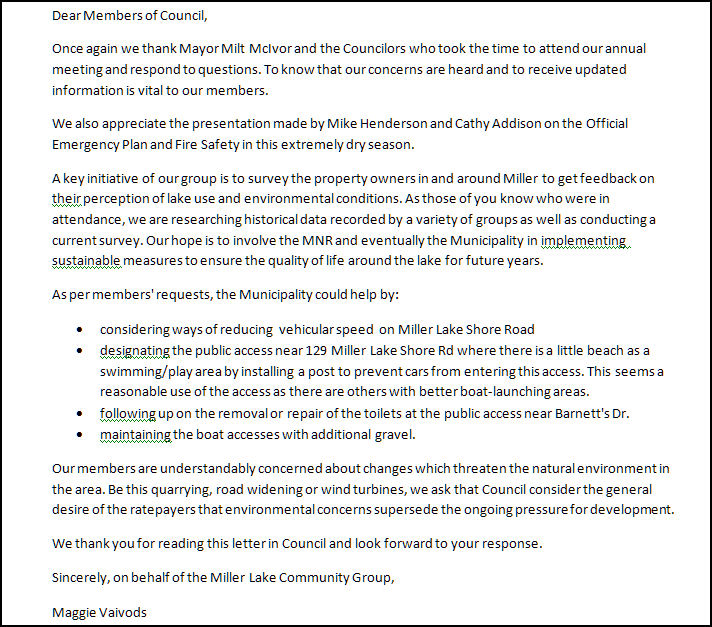 ---