Spring Adopt-a-Road Clean-up 2011
It's nearly that time once again - Spring cleaning! The robins are returning, spring showers fall intermittently, and the property tax bills have arrived, a sure sign of the season. It's also time for our annual Adopt-a-Road campaign.
This year, we've decided to make the Spring event less structured. Typically, there's not a lot of garbage strewn along the roads at this time of year (unlike the Fall!), so we are asking volunteers to do some cleaning on their own during the week of May 7 - 14. Just take a small garbage bag and some gloves with you when you go out for a walk, scan the road edges, and retrieve any errant bits of junk that you see. If you find something too big to deal with, such as a tire, contact Maggie Vaivods or myself, and we will inform the municipality.
Our small efforts have a two-fold purpose - it helps to keep our local slice of heaven clean, and shows the municipality that we're serious about getting things done. Please do your bit.
---
Dropping Water Levels Prompt Concern

Article by Cameron Ginn from CottageCountryNow.ca and FOCA, Feb. 2011

PARRY SOUND - Water levels in Lakes Michigan and Huron have declined significantly. Measurements taken by the U.S. Army Corps of Engineers in February show that water levels in Lakes Michigan and Huron have dropped 32 centimetres since the same time last year.

As lake levels reach annual lows, the U.S. government released a five-year study Monday warning of possible water shortages in some areas of the Great Lakes due to climate change or increased demand.

Michigan, Huron and most all the Great Lakes begin rising gradually in the spring as snow melts and drains into the basin, but only one per cent of their capacity can be replenished annually by precipitation and runoff, according to an unpublished federal report commissioned by the Canadian government last year. "Regions such as the Great Lakes face significant water availability pressures and could experience constraints in the future," because of population growth, urbanization, agriculture, industrial development and climate change, the federal report says.

Less ice cover, less snowfall, more rain-on-snow precipitation, more frequent winter thaws, drier summers, decreasing soil moisture, water shortages and milder winters are all symptoms of climate change in Canada.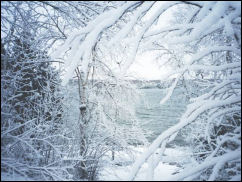 Since November 2010, total precipitation of snow and rain in the District of Parry Sound has been slightly lower than the long-term average total, according to Environment Canada statistics. "There were a few missing days of data both in January and in December, but it should be pretty close to what the long-term totals were," said environment preparedness meteorologist Geoff Coulson.
In recent years, low water levels in Lakes Huron and Michigan have appeared to coincide with winters that have brought little precipitation, "but it's actually about the total yearly water balance in the lake basin," explains David Sweetnam, executive director of Georgian Bay Forever, a registered Canadian charity dedicated to protecting the Bay. Sweetnam, who has a BSc in biochemistry from the University of Waterloo, explains that modelling lake levels uses a complex equation involving variables such as inflow, outflow, over-lake precipitation, run-off and evaporation, all of which are affected by climate changes.
For example, as temperature increases, ice coverage dissipates on the lakes, allowing more water to evaporate over the year, meaning more precipitation is needed to balance the water level. "Some of the snow we receive in Ontario is lake effect snow - it evaporates out of the lake, falls and sits on the ground either in the basin and then melts back into the lake or further downwind out of the basin with a net loss," said Sweetnam.
"We sometimes assume that lots of snow and run-off means higher water levels, but it's only weather systems that bring water from outside of the lake basin that will increase levels."
Information about ice coverage on Lake Michigan and Huron could not be obtained before press time, but Coulson reported that temperature, which affects the formation of ice coverage on the lakes, dropped to extreme lows in January, once plummeting to minus 30 degrees Celsius on January 30. The monthly average for January was minus 10.9 degrees, 1.5 degrees colder than the long-term average temperature. "We were running a little colder than normal," said Coulson.
The U.S. study explains that, over the past decade, declining water levels in the Great Lakes resulted from drought and warming temperatures that reduced ice coverage and increased evaporation.
---
ADOPT-A-ROAD Fall Clean-up 2010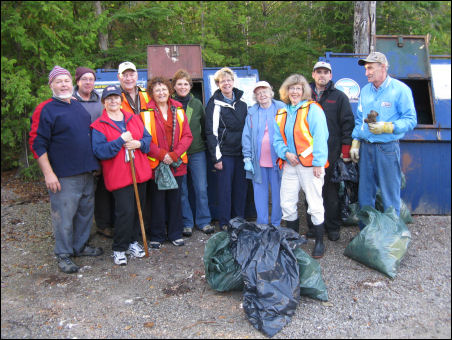 Our annual 'Adopt-a-Road' fall clean-up was well-attended this year, and it's a good thing - our volunteers collected 55 bags of garbage!
Clean-up day was Saturday, Oct. 23. Because they were unavailable on the official date, Elizabeth Smith and Randy Gulliver walked Barney's Blvd. and Tammy's Cove Road the previous weekend, collecting plastic bags and bottles from the roadside. To the public's credit, the verge was much cleaner than in previous years. The main offending item was the omnipresent plastic water bottle. As any idiot knows, these can be recycled and thirsty pedestrians should be taking their bottles home, not tossing them in the bush.
Not surprisingly, the area around the dumpsters on Tammy's Cove Road proved to be the major disaster we expected. 11 volunteers worked for 2 hours in the bears' favourite dump site. Garbage had been dragged far into the forest and the debris covered an area at least the size of a football field.
The MLCG thanks all of the volunteers who gave their time and effort to cleaning up the mess of others. We would like to see even more people helping out in future.
---
Message from our MLCG President

August 2010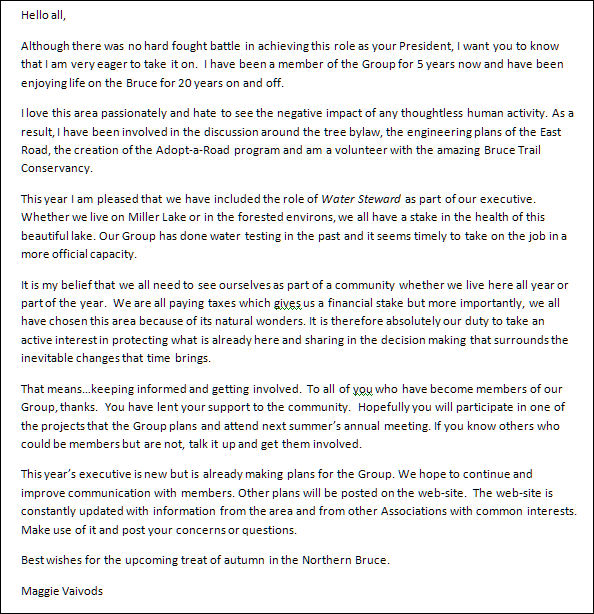 ---
Annual General Meeting 2010

July 2010

The turn-out for this year's meeting was excellent. Once again, Mayor McIvor attended, loaded with information about where our tax dollars go and future municipal plans. This discussion will be posted in detail when the Secretary's report is complete.

The major business of the day was electing a new executive. President Barry Walker - who has helmed the group admirably for the last 2 years - did not seek re-election, and neither did Vice-President Barb Chester, who is very involved with other associations. We thank both of them for their years of dedicated service to the MLCG.

Maggie Vaivods, who has been very active in setting up both the 'Adopt-a-Road' program and organizing road clean-ups, was elected the new President. Randy Gulliver was elected Vice-President and Treasurer. George Chester kindly agreed to stay on as Secretary, a position he fulfills with distinction.

After the meeting, we had a terrific barbecue. Barry had gone to alot of trouble organizing that aspect, bringing his barbecue from home and purchasing the burgers and hot-dogs. We appreciate it!


Members checking in and paying annual dues


Getting settled before the meeting


Chowing down after the meeting
---
Idiots on the Loose!
July 2010
If you ever wondered why people get so angry about the local dumpsters, take a look at these photos submitted by George Chester.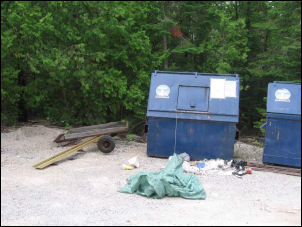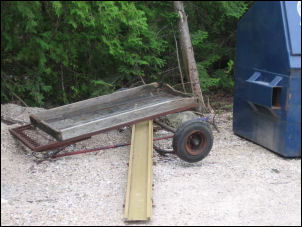 Clearly, this is NOT how the dumpsters are meant to be used. Somehow, this moron had the wherewithal to get his ersatz trailer to the dumpsters, but he couldn't get it to the dump? No - instead, he has left a wonderful eye-sore at the head of Tammy's Cove Road for all of us to enjoy.
This type of selfish, irresponsible - and lazy - action endangers the current dumpster arrangements for all of us. This loser, if caught, can be charged and fined for littering.
If you notice this type of action in progress, please do not hesitate to call the police. If you do not know which one of your "good" neighbours decided that you should tolerate his or her stupidity, please call the municipality to remove the material.
At least bears have a reason for making a mess....
---
Phosphate Levels in Miller Lake
July 2010
Thanks to Gerry Fisher and George Chester, we have some new data on water quality in Miller Lake.
FOCA offers a free lake-partnership program that determines phosphorous levels in water samples. Phosphates influence algae growth. Algal blooms can seriously harm a lake by depleting oxygen levels for fish and other inhabitants of that environment. In addition, algae will affect the aesthetics of the lake and/or cause taste and odour problems in the water.
The testing involves collecting several deep-water samples as well as a Secchi disk, which determines murkiness.
The 2009 results are posted on the FOCA web site:
Total Phosphorous - Mid Lake, deep spot 05-Jul-09: Sample 1: 8.3ug/L , Sample 2: 9.0ug/L
Clarity(Secchi depth): Mid Lake, deep spot : 2009 3.0 m.
As far as I can determine, "ug" is the equivalent of microgram - "mcg".
So, what do these results mean?
Lakes with less than 10.0 mcg/L phosphorous are considered unproductive lakes, i.e. algae will not flourish in this environment. Lakes with 10 - 20 mcg/L phosphorus are show a broad range of characteristics and can be clear and unproductive at the bottom end of the scale or susceptible to moderate algal blooms at concentrations near 20 µg/L.If your lake is over 30 mcg/L of phosphorous, you got serious trouble.
Miller Lake is doing well. According to George, phosphate levels in 2009 were slightly lower than previous results from 2002 - 2005.
Unfortunately, FOCA only tests phosphorous levels. Perhaps the association should consider some more thorough testing in future, checking for heavy metals, dioxins, agricultural chemicals, etc. Might be worth a discussion.
In the meantime, our thanks to George and Gerry for undertaking this task. The data is encouraging and we should all continue our efforts to keep phosphates out of our lake and our environment.
---
Protect Our Forests - DON'T MOVE FIREWOOD!
Ontario forests are being threatened by the presence of the Asian Long-horned Beetle and the Emerald Ash Borer. These insects which are native to Asia have no natural predators in Canada and therefore have the potential to spread and kill millions of trees in our urban and rural forests.
Do your part by not moving any wood products such as trees, nursery stock, pruned branches, logs and forest products with bark attached to or from your cottage. What else can you do?  Buy firewood locally from farmers or foresters who are reliable sources.
Many cottagers bring firewood home from the cottage for their fireplace or fire-pit. Remember that you may also be giving a free ride to insect invaders. Help protect our forests and shop for wood at home.
---
Burned by Insurance Rates?

January 2010

In December, the Municipality took the extraordinary measure of sending the following letter to all local ratepayers associations: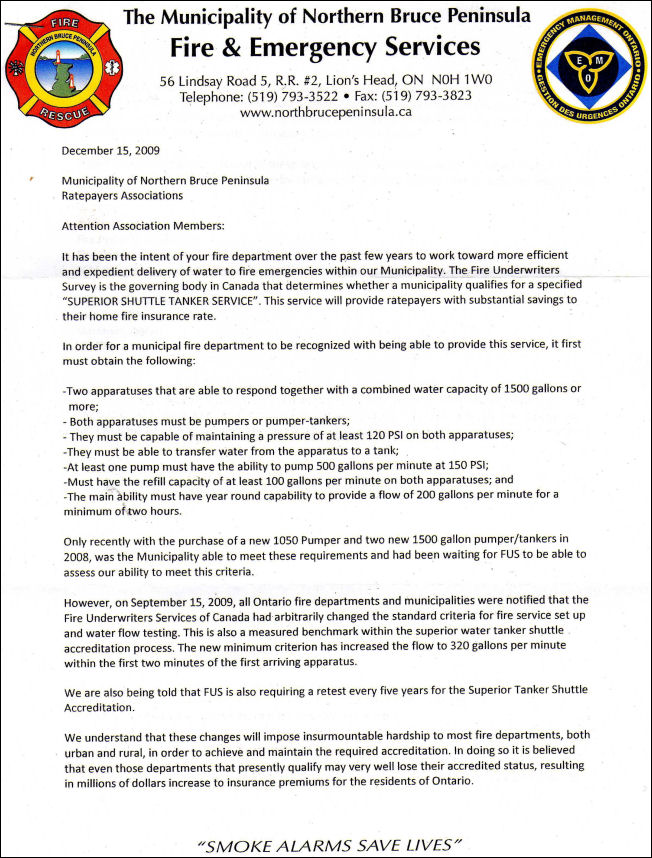 The Fire Underwriters Association is funded by the Insurance Bureau of Canada. It helps determine risk - hence, premiums - based on local conditions and safety practices. The change in criteria for fire-fighting equipment will directly impact insurance rates in cottage country.
What our local fire department is saying is that, in spite of their recent expenditures to meet FUS criteria, the yet-again new regulations renders their improvements moot. The implication is that insurance companies have decided to boost their profits by simply changing the rules of the game - their rules.
What can we do about this? Banding together with other cottage associations and encouraging the provincial government to investigate insurers' practices would be a good idea.
One thing for sure - our rates will be going up, and the Fire Underwriters will have had a hand in it. This is a 'heads up' for future action.
- Randy
---
November 2009

Nix the Terrafix!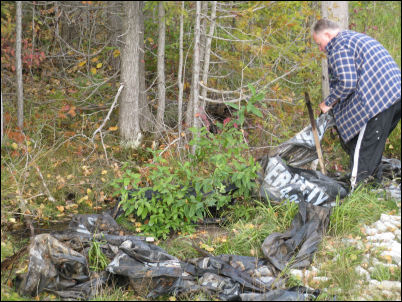 Congratulations to the 16 volunteers who participated in lifting 24 large bags of garbage from Tammy's Cove, Barnett's Drive and Barney's Blvd.
When we say, "Keeping the Bruce beautiful" on our signs, we mean it! Special thanks to Sue Halliday and Barb Chester who, along with me, are the road captains who make sure the day is organized.
Cathy Addison, the Administrative Assistant/Deputy Clerk of the Municipality of Northern Bruce acts as our liason and has sent a formal card of thanks on behalf of the Municipality for our positive contribution to the community. She has been notified that the road crew has not removed the Terrafix from along the East Rd. This is the grey membrane used to prevent run-off during road construction. The Barnett's Dr crew dragged some of this out of the ditch but the job requires the Municipality works crew to complete. Two requests have been placed to have this done. Here's hoping it happens before the stuff is frozen into the ground.
While our group is not solely responsible for tidying the roads, our bi-annual commitment makes sure that the job is done regularly. Good job folks and plan on pulling on the gloves again in the spring.
Maggie Vaivods
Terrafix Gone
On Monday, Nov. 9, a municipal road crew was spotted removing the Terrafix barriers from ditches on East Road. This action was a direct result of "reminders" from Maggie Vaivods to the Works Department, and the support of Cathy Addison, Deputy Clerk. Our thanks to both ladies for their persistence in the face of typical Works Dept. indifference.
---