MLCG Annual General Meeting Minutes 2012
August 4, 2012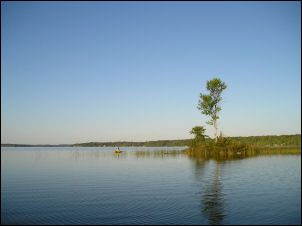 Opening Remarks - Maggie Vaivods, President
- Thanks to everyone for attending and to those who helped out over the past year.
- Next year the meeting will likely be the week before the August long weekend (July 27th) - TBC

Introduction of the Executive
Vice President, Treasurer and Web Manager, Randy Gulliver
Water Steward, Barb Chester
Secretary, George Chester
Past President, Barry Walker
Special mention of Mark Thompson for his work on lake studies.

Summary and Review of 2011-2012
A formal letter of concerns, expressed at the 2011 AGM, was sent to council and posted on the MLCG website. A response was received from Bill Jones that our concerns were being taken seriously. Some lake accesses have been improved. Old decrepit signs were removed.
Wind farms and fish stocking were discussed. Work was done on analyzing lake quality. A Lake Survey was prepared and mailed out. Feedback from it will be used as input for creating a Lake Plan which is important to maintain the quality of the lake.
Discussions have begun on setting up a Peninsula Coalition of community groups to consider common concerns such as tax issues, wind turbines.
Thanks for contributions to the food bank and to everyone who participated in the Adopt-a-Road program.
The agenda for the day's meeting was presented and approved.
Minutes of 2011:
Minutes are posted on the website www.millerlake.org , and printed copies were available at the meeting.
Moved by George Chester, seconded by Paul Mundy, the minutes of last year were accepted as written.
Treasurer's Report - Randy Gulliver
After normal expenses, the association has minimal funds left. Major expenses were membership in FOCA and the survey mail-out. Randy gave a brief summary of what we get from FOCA, which includes property tax discussions with the Government and MPAC, lake stewardship and planning, fishing, shoreline literature, etc.
Randy also commented on the need to develop a Lake Plan. The lake is Crown land and is under the jurisdiction of the Ministry of Natural Resources (MNR) and the Dept. of Fisheries and Oceans. The Municipality's control/authority ends at the high-water mark.
He gave Lake Winnipeg as an example of how a lake can be destroyed by such things as toxic algae and phosphorous when no lake plan is in place. Fortunately Miller Lake has been included as one of eight lakes in Ontario to be studied by the MNR for fish health, oxygen, phosphorus, invasive species, etc. The DFO will make the data available to the community group when completed. As Randy pointed out, this study indicates the value of having a community group - Miller Lake was included because of our Executive's persistent (some might say annoying!) queries to the MNR over the last 3 years.
Peninsula Emergency Plan: - Fire Chief Mike Henderson and Deputy Clerk Kathy Addison
The municipality has to prove compliance of their emergency plan to the province. A large segment of the public was not aware that we had an emergency plan. Details of it can be found on the municipality website www.northbrucepeninsula.ca and brochures are available.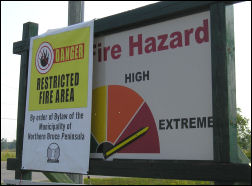 Because of changing weather patterns in recent years tornados have touched down on the Bruce Peninsula. A committee of response teams has been set up which includes OPP, Firemen, Medical, etc.
Every household should set up its own family emergency plan, and make up an Emergency Survival Kit.(see side-bar below) A pet survival kit may also be required. It is important to store important papers offsite.
The Municipality is working on Evacuation Plans, updating them daily.
Kathy held a draw for an emergency kit which was won by Arnold Down.
Mike also talked about the Restricted Fire Zone which was declared on July 16th and included a total open fire ban. The municipality collects data/weather conditions and updates the highway signs daily. Computer programs are used to analyze the data.
Regarding campfires in campgrounds, provincial laws used to allow private campgrounds to police themselves. However as of August 2nd, local by-laws now supersede provincial laws and all campfires are now banned. However Provincial parks are still under provincial control and the parks in North Bruce lifted the restriction to allow fire in restricted areas.
The Fire Dept. provided handouts to be posted by members of the Bruce Trail.
Fireworks can only be set off on holidays (2 days prior and after). By-law enforcement people are out to educate people and try to concentrate displays in public locations such as Lion's Head rather than having them set off by home/cottage owners.
Mike requested that people contact the Fire Dept or him at home if necessary , or dial 911 if concerned about fireworks .
Lake Plan and Conditions - Mark Thompson
Mark put together and analyzed information gathered from 1984 to 2007. He presented his findings so far in a Powerpoint presentation.
Types of information collected included abiotic, biotic, cultural, assets, surveys, and administrative data. Information was gathered from MLCG volunteers, websites, Environment Canada, and climate stations on the Bruce Peninsula. He performed analyses of change over time.
Results of his analyses showed an improvement of e-coli over time. While secchi disk clarity tests were poor or borderline, phosphorous tests indicated the lake water was good.
Mark and Randy are compiling data for the Lake Plan. Mark indicated more and better update next year.
Mayor's Report - Mayor Milt McIver
Mayor McIver thanked Mike Henderson and Kathy Addison for their presentation, and introduced deputy mayor John Bainbridge and councilor Betsy Stewart who were both in attendance.
He gave a brief taxation outline and commented that municipal taxes increased about $22-$23 dollars per $100,000.00 of assessment.
Mayor McIver highlighted several items: He explained that roads are costing more because of higher prices for materials. The Tobermory Medical Clinic cost $350,000.00 and has been totally paid off. The new tourist building in Ferndale has been finished and is now open. It was required because the old building was too small and lacked proper facilities such as washrooms and septic system.
The Waste Management Plan has been completed. The Disposal Committee has recommended maintaining the dumpsters, and has hired summer help to educate the public. Application has to be made to the Ministry of Environment to enlarge landfill sites. The Tobermory site may have to be closed. Because of the cost of disposal, curb side separation is not being considered at this time. Placing garbage dumpsters at re-cycle locations is also not being considered.
The Recreation Master Plan has now been completed. Bob Beccarea presented the plan for Lion's Head recreation improvements to council. A new application will be made to the Federal Government. If approved, the Federal Government will match up to $1 million for the Community Centre. Council is looking at a $2 million improvement project.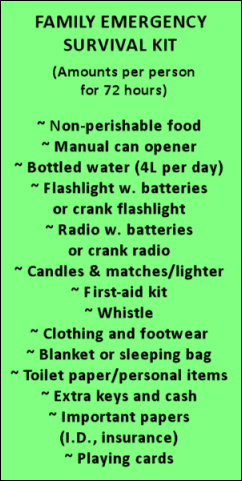 The Official Plan for Lion's Head and Tobermory has been completed.
On the topic of Wind Turbines, he stated that correct information, not speculation, is required. At present, the status of turbines is that one company, Preneal, is in the process of gathering information. No application has been presented yet. For North Bruce Peninsula they are looking at producing up to 150MW using 50-60 turbines. They have property leased for this project if it goes ahead. There have been several applications made in Southern Bruce.
The question of paving Tammy's Cove came up again and compared to Caudle Road, which had been re-surfaced. The mayor explained that 2 lifts of tar and chip or micro lift (which looks like pavement) is required to properly finish the road. Roads are paved based on traffic and difficulty of maintenance. A request was made to get a counter placed on Tammy's Cove.
Comments from the Floor:
Complaints were lodged regarding ATV's and the speed of cars on Miller Lake Shore Road.
There are 4 Public Accesses on the west side of Miller Lake. It was suggested that ONE of the access points be designated for swimming and children's play area as there is already sand there. This location once had a post which prevented vehicles from entering and it was hoped that it could be rebuilt. It's the access near 129 Miller Lake Shore Rd. The Mayor indicated this request should be added to a letter to be sent to the municipality.
There was also a suggestion that the signage be refurbished inside the poster boards that were erected by the community group in the past.
A request was made regarding the dilapidated toilet at the Barney's & Barnett parkette , suggesting that it be taken down and capped. The mayor responded that it was supposed to be replaced.
Randy Gulliver stated that through FOCA we could apply for a $5000.00 grant, but we should wait for the results of the survey before applying. He reminded people of the importance of completing and returning the surveys.
Another complaint was the amount of dog feces in public locations and the fact that these carry viruses. The municipality requires dogs to be on leashes and has by-laws for poop-and-scoop.
Elections
Lake Steward – Mark Thompson
Secretary – Maggie Vaivods
Treasurer – Randy Gulliver
Co Presidents – Bob Beccarea and Randy Gulliver (to share president and vice-president duties).
The meeting was adjourned at 12:00pm and a BBQ and pot-luck followed.
---
Message from our MLCG President

October 2011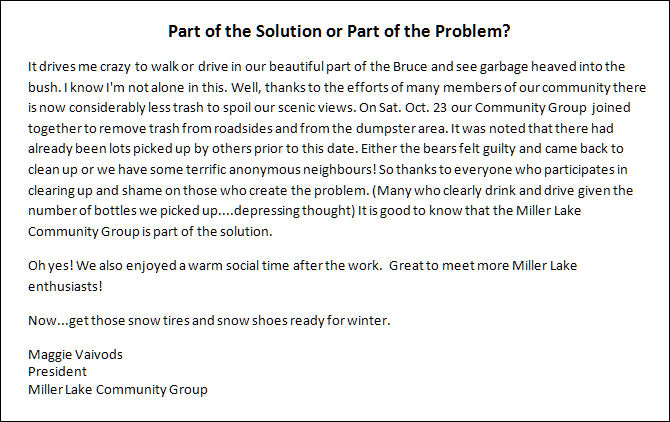 ---
Culprit on Camera

June 2011

After visiting a friend at Cape Chin, I was heading back to my cottage on Tammy's Cove Road at 9:00 PM, Monday, June 20. When I turned onto the road, the dumpster door was - as usual these days - wide open. So, I closed it and decided to stick around for a few minutes to see what would happen.

I had barely gotten back into my car when our mutual friend appeared from the forest right in front of me. Check it out.
---
Giant Hogweed - Dangerous Plant Arrives on Bruce
Giant Hogweed is an invasive species that we will hearing more about as it continues its spread throughout the region. The sap from this plant can cause severe reactions in humans, from burning and scarring of the skin to potential blindness. The Ontario government has provided video to help the public identify Giant Hogweed.
For more information, you can visit Ontario Ministry of Agriculture.
---
Free Well Inspection
The Ontario government supports a safe drinking-water program called Well Aware.

The program involves a free visit to your well by a peer specialist that is voluntary, confidential, and non-regulatory. The expert guides you through a self-assessment to help identify and address potential risks to your well water. Spring is an ideal time to schedule an inspection.
Although this does not the replace the regular round of testing water samples that we should all be doing each year, it can help identify problems before they become more serious. You can find out more and schedule a visit at www.wellaware.ca.
---