August 3, 2013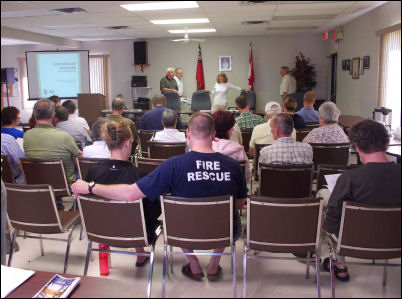 After opening remarks by Co-Chair, Bob Beccarea, Randy Gulliver, Co-Chair and Treasurer, reported that our current reserve is $1,243. He noted that this was one of the lowest reserves of any group that belongs to the Federation of Ontario Cottage Associations.
Our membership in F.O.C.A. remains our largest expense. Members are reminded that, recently, this association has successfully fought against Hydro One for lower hydro rates for seasonal residents, plus other benefits are also available to us. Since our Group belongs to F.O.C.A., Randy reminded members that we can each sign up individually for cottage newsletters and discounts on insurance at the F.O.C.A. web site.
He addressed the need to increase our membership dues if we would like to do more extensive water testing. He also explained that we would use funds to cover the production of educational materials promoting shoreline preservation to new and current owners, as well as to local business concerns.
Lake Survey Results
In 2011, our Group mailed out a Lake Survey to all property owners in the vicinity of Miller Lake. We received an impressive 37% return. Full survey results are posted on the MLCG website.
As a general portrait of those who returned the survey, the tranquility of Miller Lake and the preservation of that tranquility in its natural state is their prime attraction. Notably, 100% of all respondents agree that maintaining water quality is extremely important.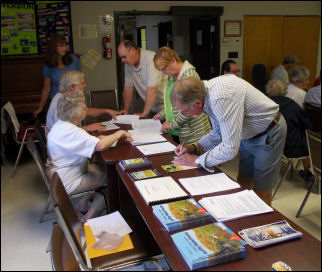 In reference to some survey questions, Bob Beccarea spoke about the response he received from the Planning Dept regarding back-lot land development potential. These he reports are generally large 10 - 100 acre lots which cannot easily be divided. Therefore subdivision potential is unlikely or at least difficult. Shoreline development, such as the building of ramps and boathouses, is already under strict regulation, either governed by Municipal By-laws or under the Ministry of Natural Resources and the Department of Fisheries, which governs the lake itself. The County Planners' response to MLCG concerns raised by the survey can be viewed here.
One concern noted by Randy was the number of 2-stroke boat motors reported in the survey. Of the 59 boats owned by respondents, 43 have 2-stroke motors. The concern is air pollution - even under the stricter 2006 EPA emission standards, one 2-stroke motor running for one hour generates the same amount of pollution as 50 cars would in the same amount of time. The MLCG encourages boat owners to replace 2-stroke engines with 4-stroke when possible.
He also noted the large percentage of respondents - 68% - who said they would like PWC's controlled on the lake. Transport Canada regulates jet-skis, and states that all lakes have unposted shoreline speed restrictions. Rules governing jet-skis and boats can be found here.
In August 2012, the MNR included Miller Lake in a study of inland lakes and fish habitat. Randy also mentioned this study, including what species currently live in the lake and mercury levels of the fish examined, and it's posted here on our web site.
Finally, he thanked Bonnie and Maggie Vaivods, and Darci Lombard for their purchases and preservation of wetlands that feed this lake at East Road. Their stewardship benefits all property owners around Miller Lake.
Presentation
Sean Liipere, Program Manager for the Bruce Peninsula Biosphere Association, emphasized that the Northern Bruce Peninsula is recognized internationally, alongside places such as the Galapagos Islands, as a place of exceptional environmental importance. Those of us who reside here are fortunate to enjoy such a beautiful and unique location and need to apply our efforts to maintain its natural integrity.
He illustrated in word and images the integrated parts of the Spring Creek watershed which includes Miller Lake. He encouraged us to work together to solidify a unified vision and make plans that can move us forward to reach a positive goal. Our Lake Survey results are a good 1st step in coming up with a plan.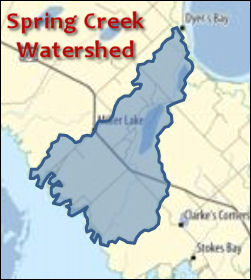 He stressed that Climate change certainly endangers the health of the lake and that one sure way to mitigate those dangers is to protect and enhance the buffer zone between the shore and the water. Protection of wetland, restoration of native plants and maintaining the as yet undeveloped areas of shoreline on Miller Lake are crucial. Fully functional septic systems are also necessary for aquatic health.
An additional problem on the Bruce is the introduction of invasive species. Phragmites and giant hogweed are 2 plants which exclude native vegetation thus disrupting animal life cycles. Japanese Goby fish, Quagga and Zebra Mussels are invasive marine life which destroy our natural species.
How can we Help?
Maintain or restore natural shoreline
Become involved in restoration projects of any part of the Spring Creek Watershed
Monitor the lake and talk up environmental concerns with neighbours
Avoid introducing non-native species to your property: Look for and destroy invasive plants and avoid the use of live bait, which can contain Goby fish or other species. Clean boats which move from lake to lake
Establish a Miller Lake Management Plan and join up with the already established Environmental Network.
Contact Sean at sean_liipere@hotmail.com
Cottage Succession
Bob presented a brief outline of the possibilities of this complicated topic. Lawyer Peter Lillico kindly sent along his summary of cottage succession information, and it has been posted on our site.
In brief:
Have dialogue with future heirs regarding: their actual desire to own the property, real financial commitment, problems of cost sharing. Essentially, attempt to avoid future conflict
Get a current informal appraisal of the property and determine potential capital gains tax value
Find out the possible advantages of gifting the property rather than passing it on as inheritance
Mayor's Message, Milt McIver
Tax assessments have increased 19% on average for the 2013- 2015 period. Milt warns us that we will be paying more and suggests we query MPAC to dispute assessment if necessary.
He reminds us that only 39% of what we pay goes toward Municipal spending and that there was a 3% increase in this last year. The Municipality maintains a $5 million reserve which is a requirement. User fees have increased by 17 - 20% for additional revenue. Road improvements have seen the tarring of Barney's Blvd, parts of Dyer's Bay and others. This top micro surface is planned for other roads in the area. In all, the Municipality is responsible for 600 km of roads in and 400 km of winter maintenance. In 2014, outside engineers working with the Council will conduct a new road study.
New Zoning Update: Open houses will be held Tues Aug 13, Sat Aug 17 and Fri Aug 23 Check Municipal website for times and locations.
Members' Comments
It is hoped that better advertising will be forthcoming regarding the availability of placements with new doctors.
Several people want to know why road widening takes place and why surfacing happens in some instances and not others. Milt suggested that the municipality might communicate with local landowners prior to road work.
There was some interest in supporting a resolution to encourage the municipality to pursue the idea of septic system inspections. Other members felt that our group is not intended for political activism. We did not move forward with a definitive statement.
Volunteers
Maggie Vaivods urged more members to participate in group activities. Happily, many did offer their names at the end of meeting and will be offered opportunities to follow through as the need arises. David Dolson accepted the job of Water Steward. Given our unanimous concern for maintaining the quality and beauty of Miller Lake, we can't thank him enough for his willingness to act in this role. It was encouraging to see that others are very willing to help him out.
Appreciation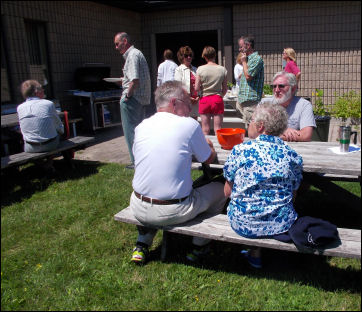 The Executive thanks Sean Liipere and Milt McIvor for their presentations, Councillor Betsy Stewart for attending, Bonnie Vaivods for his B.B.Q skills, members who contributed to the food bank, members who brought food to share and who helped with set up and clean up.
For those who missed it, we also had a Canadian icon at our barbecue this year - sexual educator Sue Johanson! Sue was visiting a friend in the area and attended the AGM to hear Sean's presentation. She's sitting at the picnic table in the barbecue photo.