November 7, 2023
President------------------- Anna Pellizzari
Vice President--------- Daryl Emilio
Treasurer-------------- Randy Gulliver
Secretary ------------- Christine Gillies
Water Steward------- Greg Keane
Members at Large - Paul Mundy, Bob Beccarea
Web Site---------- Randy Gulliver
The Annual General Meeting was again held online. This venue has proven to be very convenient for Members, and this year there were 46 Members in attendance.
President Anna Pellizzari opened the meeting at 7:30 pm, shared the Agenda, and welcomed Members and the Mayor.
MUNICIPAL UPDATE - MAYOR MILT MCIVER
- Public Works - design work is in progress for Tammy's Cove Rd; eventually blacktop; huge increases in costs has slowed some projects down

- Ash trees dying and public works patrol determining which trees to remove first

- New newsletter with additional info - subscribe on website or Facebook by clicking here. Updated Municipal website easier to navigate

- Advertising on new Tobermory radio station, 97.9 The Bruce; Station will broadcast Emergency announcements when issued.

- Building statistic: busy but not as busy as past few years - Additional residential units are available; contact building dept to see if you qualify

- Budget: difficulty in keeping up with everything that needs to be addressed within public works, additional costs have made it more challenging to keep costs down, but also have responsibility to maintain things

Questions for Mayor:


Bill: asked are we considering a food waste program as part of recycling program?
Mayor: currently part of a pilot project in municipality-one company and it was positive, so we'll try increase it and expand program. Also going to asked for a cost with new waste management contract coming up.

Steve: For NBP, is better cellular service possible and feel it's a safety issue
Mayor: Staff in talks with Bell and Rogers to get some interest

Tom: Reached out to Ontario Connex project and SWIFN, recently approved a project in the area, including Barneys Blvd, East Rd, Maxwell, Barnetts, Tammy's Cove gov't funding, Miller Lake Shore and Noble are in proposed stage
Mayor: Some areas were missed by Eastlink, Explorenet through SWIFN has covered more area, conversations with Eastlink sound promising

Thanks to Mayor Milt for his time. He welcomes questions at any time.
WATER LEVELS REPORT
Vice-President Daryl Emilio presented results from working group on Miller Lake water levels.
- Since last AGM, they launched a sub-committee working group to study causes and possible solutions
- Sub-committee: 7 members: 3 engineers, lawyer, hvac and a retired vp of a company, none are hydrologists or experts. Bob Baccarea, Bill Hodgins, Dave White, Daryl Emilio, Pierre Pilon, Dave Bast, Tom Vlasic
- They have received a lot of historical information from long time residents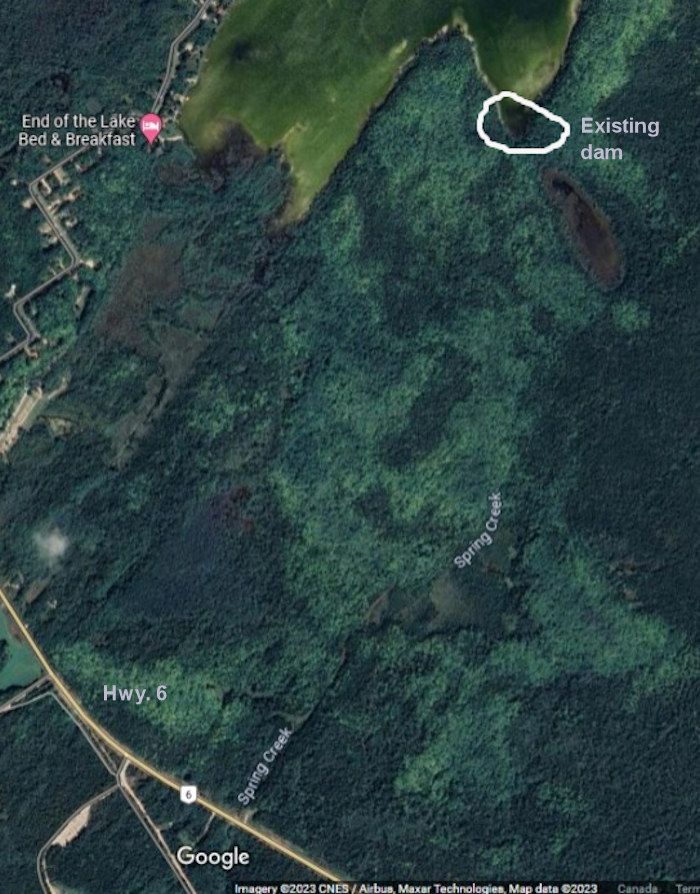 - Met in person and online, walked, hiked, atv'ed, canoed, kayaked to get to locations David White reported overall lake levels over previous years from a neighbour, took data and performed analysis against rain/snow, sun, other factors, found lake is consistently lower than levels of the past, at record lows
- New lows determined as a representative sample, given to MNRF, this summer Miller Lake lost 34.5 inches of water this spring to the fall
- Hiked to Britain Lake, talked to a resident and found it doesn't get the same fluctuation, even though it's a feeder to Miller Lake, think something is impeding the flow (dams, sediment), lake is fed by springs from water table, they think one of the biggest springs by Miller Lake Shore Rd froze for the first time last winter, also looked into impact from Walker's Pit, the outflow at SW end to spring creek
- Explained that back in the 1980s folks got a permit to dam in the SW end with cement bags, did slow down the flow, but this dam is almost destroyed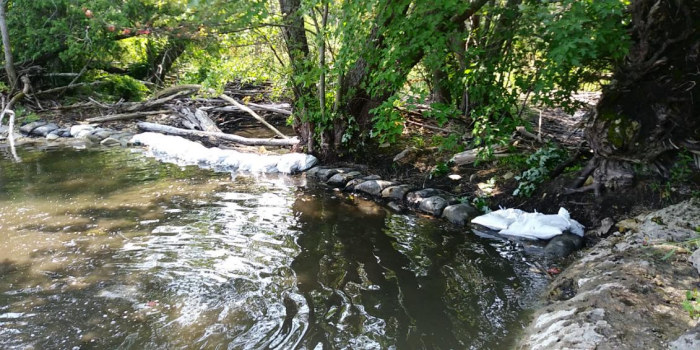 Photo of current dam

- Daryl described the ensuing communication with MNRF:


- MNRF asked for a letter with concerns and findings
- We submitted letter in March /23
- Response May /23 saying still looking into it,
- July /23: residents began to repair dam with sandbags (permitted by Land and Rivers Improvement Act), but had little effect
- Sept /23, met with Mayor to express concerns
- Oct 8th, 2023 wrote another letter, cc'd mayor and MPP Rick Byers
- Received a reply from MNRF on Oct 10th saying they sent request to technical experts
- Reply Fri Nov3, 2023 from MNRF saying they won't supply a hydrologist. They also said that the local gravel pit - a potential problem source - is in a different water shed.
- Since then, learned recently about a municipal grant to help with various environmental concerns.

- Talked to a hydrogeologist from Waterloo, says Bruce is all fractured limestone and fissures everywhere so hard to study water flow, unusual activity in our lake, MNRF should be our best bet and they should be interested. There's a provincial groundwater network of water wells monitoring water levels, but there's no provincial monitoring that correlates water levels with rainfall. Firm can do this work, look at all publicly available data, our data, site conditions, dams, springs, quarry, flow meters for water in and out, capture what lake looks like now, root causes, recommendations, for an approximate cost of $10,000

Daryl discussed suggested next moves: further repairs to the dam will continue, suggested that we continue to pressure MNRF and MPP from all members, media blitz. Expressed concerns about the grant and a media blitz because of property values if Miller Lake gets in the news for this negative reason. REcommends dropping the grant application and avoid media blitz. Asking for folks to email him with other suggestions.

Questions


Q from Robert: are the campgrounds part of our group and interested in these concerns since it also impacts their business? Daryl: at this time, Summerhouse is not interested in this group.

Q from Derek: can we all help with repairing dam or removing silt/debris? Daryl: yes but we have to operate within law

Discussion continued about possible fundraising ideas, who's interested in this? Donations, fundraising, direct mail, door to door information campaign

Q from Rosemarie Mccrie: Once we get a report from a hydrogeologist, can we get confirmation from MNRF that they'll do the work? Can the firm mitigate the environmental impact of their work? Daryl: we will then have the info we need to press them to do the work

It was also suggested that we can also get other firms to bid on this, ask FOCA.

It was asked and agreed that the committee could draft speaking notes for us to talk to our neighbours.

It was confirmed that dam built initially was also to stabilize water levels, but beaver dam was built higher than the bags.
FINANCIAL REPORT
Treasurer Randy Gulliver reviewed our financial statement. Our bank balance last year on September 1 was $2,507.44. This year, the total is $2,851.31.
- Payment of dues has been steady in 2023
- One factor that increased the total was a donation from Dianne Thomson of $220. This was money she had collected to help finance the walking trail around Miller Lake that she worked so hard on. Unfortunately, the trail was not to be, and we appreciate her diligence and donation.
- Brief discussion about door to door campaign that might be best to grow presence of the group, and get renewed dues paid
LAKE STEWARD REPORT
Water Steward Greg Keane was not at the meeting, so Randy briefly spoke on the results. The weather was cool in August when Greg took the samples, and the results mirror that - E.coli levels were generally lower than last year.
Results and comparisons to previous years are posted on the LAKE HEALTH page of this website.
The calcium and phosphorus levels have not yet been received. They are compiled by FOCA.
OPEN FLOOR
- More talk about raising money. Decided to get quote before fundraising, so we have a solid understanding of costs
- What's the best way to donate: cash, e-transfer, chqs
- Thanks to the water level committee for all the work
CLOSING
Anna had a reminder that there's a new form for new members on Facebook and our website; talk to your neighbours to get them to join and understand the issues; thanks to everyone who presented and joined the meeting.
MEETING CLOSED AT 8:55 PM.