July 16, 2016
Chair------------------- Anna Pellizzari
Treasurer-------------- Randy Gulliver
Membership---------- Sandy Ogilvie
Secretary ------------- Keith McKee
Water Steward------- Dave Dolson (not present)
Past Chair ----------- Bob Beccarrea (not present)
Members at Large- Paul Mundy, Mark Thompson (not present)
Meeting held at Northern Bruce municipal offices on county road 5.
Opening Remarks:
The meeting was opened by Anna Pellizzari, welcoming the attending 30 members (approx.). Tribute was paid to the late Bill Schultz, who passed away last winter. Bill had been an active member for many years.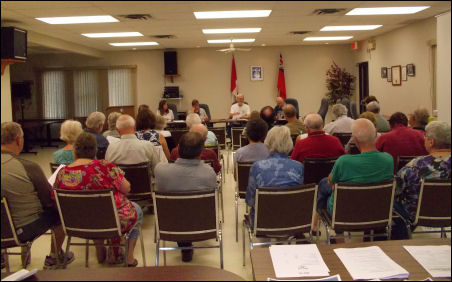 Financial Statement
Tabled by treasurer Randy Gulliver. Copies were available at the meeting. Highlights as follows:
Last Year's opening balance --- $ 1,587
Income( Dues and donations)-- $ 2,195
Expenses ----------------------- -$ 1,652
(water testing-$570)
(FOCA dues--$320)
Book Balance (July1/2016)--- $2,130
Water Report

Prepared by Dave Dolson, Water Steward. Presented by Randy Gulliver.

In summary, the calcium and phosphorus levels are really good, minimizing the possibility of a toxic algal bloom. E coli levels are very low all around the lake. This is surprising as the number of geese and birds do have an effect on the lake E. coli levels.

The full report is available on this web site under the Lake Health section.

It was mentioned that the MNRF (ministry of natural resources and forestry) is doing testing on the lake and have buoys placed is various locations .Testing is to determine fish species and quantities. It was requested that boaters do not tamper with these and to let the camps and renters know of their existence.

A question from the floor pertained to fishing derbies on the lake and whether they were catch and release. Reply from the floor was that Summerhouse derbies are catch and release.
---
2015 Levels Compared to Previous Years
Phosphorus is a nutrient that accumulates in waterways from fertilizer run-off, detergent, and other sources. It is the major cause of algal blooms, some of which are toxic. A lake with a reading of 0 - 10 mcg/L of phosphorus will not support algal blooms. Between 10 - 20 mcg/L, there is a possiblity of a bloom. Over 20, you're really screwed.
Calcium is required for all life. Zooplankton is a major food source for many inhabitants of the lake, and it requires a calcium level of 1.5 mg/L in order to survive.
| | | | |
| --- | --- | --- | --- |
| DATE | CALCIUM (mg/L) | Total PHOSPHORUS 1 (mcg/L) | Total PHOSPHORUS 2 (mcg/L) |
| 2002-7-10 | n/a | 8.80 | 8.30 |
| 2003-7-6 | n/a | 9.60 | 10.90 |
| 2005-6-29 | n/a | 12.15 | 7.76 |
| 2009-7-5 | 30.5 | 8.34 | 8.95 |
| 2014-5-19 | 34.9 | 5.4 | 5.6 |
| 2015-5-30 | 35 | 7.1 | n/a |
Open Forum
A presentation was made by Diane Thomson from the PACE organization. (Peninsula Action Committee for Education). This group is conducting surveys, one provided at the back of the room, in the Bruce Peninsula Press and online to determine the views of the area with respect to education . Survey to be completed by both permanent and seasonal residents . Comments were made as to what the area needs to do to keep their graduates from leaving the area and what is required to keep its businesses healthy.
Mayor's Report

Mayor Milt McIver

The Mayor's presentation this year was very informal, with lots of questions from the floor. The Mayor acknowledged the presence of Deputy Mayor, Patricia Greig, and thanked her officially for representing him at last year's meeting.

The Mayor touched on the many issues that the Council is dealing with at this time:

a) Dealing with the influx of tourists at Tobermory and the National Park. The past long weekend was especially bad as the park turned away over 1800 cars and traffic was congested in Tobermory. This lead to parking problems and unhappy land owners. Council is proceeding to prevent parking on the roads. They are also working with the Parks to help solve these issues.

b) Dealing with budget increases as the budget is up 5.5% or about $300K. They are dealing with huge increases in policing costs, which are up by 30% alone. This is the result of the province downloading police costs to municipalities and it puts the area on a par with other areas of the province on a per household cost.

c) Road costs are up by 3% and the council wish to keep to the program as road work was falling behind standards.

d) Economic Development Committee, which Patrica Greig is on, plus 6 members of the public. Its focus is to attract businesses to the Bruce. The committee has hired a consultant and are working with Bruce Power to attract suppliers to the Bruce Power facilities to locate closer to their customer.

e) Some problems have occurred with respect to the zoning mapping. This has been put on hold as digital mapping is to be used later this year

f) Emergency Planning; This topic has been of interest as the summer has been so dry. There is a very extensive emergency plan in place for the area. A fire ban is in place in the area because of the dry conditions. Some discussion ensued as to how the MLCG could participate in communicating the ban to cottagers, boaters and others who visit the area.

g) MPAC assessments were out on May 24th for cottagers and they have 120 days to have their property reviewed.

h) Septic Reassessment Program. Council is seeking input on this issue. Much discussion occurred on this issue. Question was whether the MLCG should take a position as malfunctioning septic systems usually cause a problem with E. coli in Miller Lake. Proposals are being put forward to pump septic tanks every 3-5 years and have regular inspections. It was decided that the membership should be surveyed to determine a position.
Presentation by Craig Dawson, Director, Federation of Ontario Cottagers Association

Craig gave a good discussion on the benefits of FOCA. The organization represents over 500 associations like ours with an average membership of 100. They meet regularly with organizations like Hydro One and MNR. The cost is about $3.25/member. As a member of FOCA, benefits come from negotiating better insurance rates for one's cottage, boat , car , etc as well as better costs for fuels etc.
FOCA is also an active voice on such things as water diversion from the great lakes, water levels of the great lakes and tracking water quality.
Craig is associated with the Barrow's Bay Cottagers group and they joined FOCA three years ago. He highlighted several issues that that group is dealing with, especially the water level of Georgian Bay and its impact on getting into Barrow's Bay.
He also mentioned that the MNR has recently passed a bylaw regarding docks. Docks over 150 sq ft now need an annual permit, including those that are removed in the fall and put back in in the spring.
The Miller Lake Community Group has been a member of FOCA for several years.
The presentation by Reed Rodgers, Biosphere Assoc., regarding the Septic System Restoration Program, did not happen because Mr. Rodgers did not attend.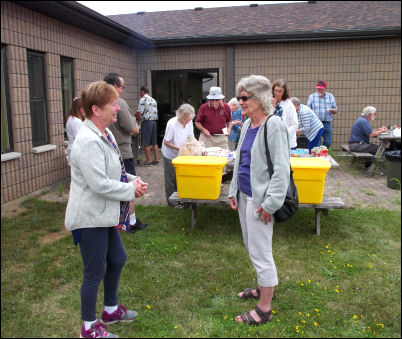 The current executive will continue for the following year.
The chairperson concluded the meeting with an invitation to burgers and hot-dogs behind the municipal offices