August 2, 2014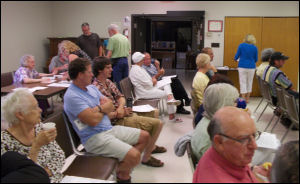 Co-Chairs: Bob Beccarea, Randy Gulliver
Treasurer: Randy Gulliver
Secretary: Maggie Vaivods
Water Steward: Dave Dolson
Councillors at large: Paul Mundy, Mark Thompson
Membership Chair: Sandra Ogilvie
Bob Beccarea opened the meeting with the comment that last year's two goals of a membership drive and renewed water testing have both been successfully addressed. A door to door membership drive resulted in an increase in paid memberships of 20 cottages . Sandra Ogilvie has offered to take on the role of Membership Chair for the upcoming year. As part of this role, Sandra put forth ideas for fundraising and volunteer financial contributions in an effort to increase the Group's vitality.
Maggie Vaivods thanked all those who contribute to the upkeep of the roadsides both on the Adopt-a-Road day and throughout the year. She requested that any others who are willing to volunteer in any capacity offer their email address for easy contact.
Randy Gulliver's financial report stated that we have a balance of $1651. Our greatest single expense has been for F.O.C.A. membership. He reminded members that F.O.C.A. offers lots of discounts to members.
Bob raised a query about the choice of date for our meeting as well as the location. There was some debate during which members suggested the weekend prior to the long weekend or a date earlier in the summer. A vote was not taken to alter the present choice of the Sat during the mid-summer long weekend . Instead the question will be posed on-line for input and the Executive will consider whether or not a change may increase attendance at the AGM.
New Voting System
New Municipal voting procedures were outlined by Mary Lynn Standen, Municipal Clerk and Returning Officer. These will be in place for the next Municipal election. All voting will be done on-line or by phone. Full details are available on the Municipal website www.northbrucepeninsula.ca and will accompany a Voter Information Letter that will be sent to all eligible voters. It will be possible to vote from Oct 20 at 8:30 AM until Oct 27 at 8 PM. In response to a question concerning the effectiveness of this kind of process, Mary Lynn stated that many other areas have already adopted this method and 12-14 other municipalities are using the same program vendor.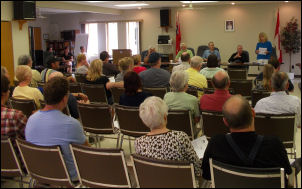 Water Steward Report
Dave Dolson emphasized the need for caution when evaluating the results of water-testing. For example, depth testing and clarity are two things which change dramatically depending on the time of the season. Therefore, while he reported that tests done in May indicated the good news that Calcium levels in the lake were higher than in 2009 and that total Phosphorous was low, he cautioned that previous tests were done in July which could be responsible for the numbers. More testing will be done this year. By keeping fertilizers off lawns, using appropriate detergents and maintaining adequate septic systems we seem to be keeping the lake in the safe range.
He urged the group to consider testing for E.coli and coliform. This will be done this year with a minimum of samples to provide baseline data but thorough testing will require additional funding. In the past the Ministry of Health was willing to pick up the expense but no longer. Paul Mundy explained that evidence of E.coli in the lake plummeted in the 1970's when septic systems were required at cottage lots. By the 1990's the records show excellent results. The condition of septic systems is therefore of real concern. In some areas, municipal governments are testing individual systems to assure everyone that full compliance is being enforced. This is not the case in the Northern Bruce but some members would like to see this happen. The question remains open: Should the Municipality be doing inspections?
In the meantime all waterfront owners are urged to be on the lookout for any septic issues and for blooms of algae. The action to take is to contact the Local Public Health Unit and Dave Dolson.
Northwinds Installation
Our Group does not endorse this company, but merely offered to let them present as an matter of interest for rural and seasonal residents. For those tech users who have been frustrated with slow internet, this company offers alternative services as well as discounts to members of FOCA, which we are. www.northwindsinstallation.com 1-800-691-5661
Mayor's Report
Mayor Milt McIver began his address with thanks to the Group for its efforts on road upkeep.
In terms of fiscal management he reported that the Municipality retains a $5 million dollar reserve to be used only for emergencies. Compared to 2009 the Municipality got 59% of its revenue from taxes. This is up from 48% in 2009 but at this point upper tiers of government contribute less. Of these revenues, 39% of the money is kept here in Northern Bruce, 38% goes to upper governmental tiers and 23% goes to the Board of Education.
A completed Asset Management Plan which makes the Municipality aware of future obligations found that roads seem to be deficient in funding at present. This is being addressed by Council. Spending for winter maintenance of roads was really over budget this past winter because of the severe snowfall.
There is a provincial initiative to reduce or at least equalize policing costs to the province. Discrepancies of cost per household across the province will likely result in an increase in assessment here in the Bruce where population is small but area is large.
Milt reminded us that we are fortunate to have medical services both in Lion's Head and Tobermory. It is thanks to the Hospital Auxiliary that the Tobermory clinic exists. The municipality is responsible for $25,000 doctor recruitment.
The invasive plant Phragmites is a concern to residents of the Bruce. In conjunction with the Bruce Peninsula Biosphere Association, the municipality is attempting to moderate the growth of this plant. Residents may report its growth to Bill Jones CEO at the Municipal office or to Sean Liipere of the Biosphere Assoc. The Municipality also encourages all new builds to make use of lighting that promotes dark skies.
The municipality is also trying to promote economic development through the Chambers of Commerce and Bruce Peninsula Tourism with initiatives such as Spruce the Bruce. The Business Enterprise Centre in South Hampton offers small business support.
The Zoning By-law mapping was not accepted by residents and will have to be revisited in the future.
The meeting closed at 12:30 and members enjoyed a social B.B.Q with ample opportunity to ask questions of the Mayor, visiting Councillors and members of the Executive. Thanks to all who contributed food for the lunch and for the food bank.