July 2009 Minutes
Welcome:
Barry Walker welcomed everyone to this year's annual meeting and introduced members of the executive.
Barry Walker - President and Treasurer
Barbara Chester - Vice President
George Chester - Secretary
Maggie Vaivods - Executive at Large
Randy Gulliver - Webpage Design and Management
Paul Mundy - Past President (absent)

Minutes of 2008:
Minutes are posted on the website millerlake.org, and printed copies were available at the meeting. George Chester can mail a copy to anyone who requests it.
Moved by Maggie Vaivods, seconded by Randy Gulliver, the minutes of last year were accepted as written.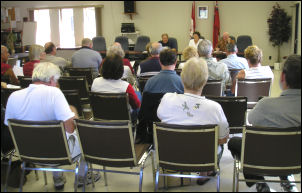 Treasurers Report:
Printed copies of the report were available at the meeting. Barry Walker gave an oral summary. Moved by Gerry Fischer, seconded by Carol Shultz, the treasurer's report was accepted as printed.
Adopt-a-Road:
Maggie Vaivods gave a recap of the road cleanups that occurred in October, 2008 and May, 2009. Roads currently part of the cleanup are Barney's Blvd, Barnett's Dr. and Tammy's Cove. She would like to see more volunteers so that other roads around the lake can be included.
Also, a captain for Barney's Blvd. is needed as nobody was in charge of that road. Sue Halliday volunteered to be captain. The municipality will pick up large items if notified. The contact person is Cathy Addison. Clean-ups will be done again in October and May (after the snow leaves), but dates have not been set. Check the website www.millerlake.org for details.
Mayors Report:
Milt McIver thanked Maggie for her efforts in the road cleanup program.
Taxes:
The mayor then addressed the issues of re-assessment and tax levy changes for the current year. The new assessments will be phased in over 4 years with an average increase of 6% per year. This caused an average increase of 4.6% in the levy for this year. Assessment growth accounted for 1.3% of this, and 3.3% was due to increased spending, 1% of which is due to a $36-$37,000 increase in garbage pick-up costs. At the same time, revenues from the landfill sites have decreased due to reduced scrap metal prices. Revenue from investments dropped from $140,000 in 2007 to about $40,000 in 2009, and there was a loss in revenue from re-cycling of $30-35,000.00.
Waste Management:
Over the past 3 years the municipality has invested $1.3M on landfill sites, of which $850,000 was obtained through grants. Benefits of the improvements include better compacting and reduced air space to allow the sites to operate more efficiently and delay the need for new sites. The county of Bruce has assumed responsibility for any new landfill sites and the county is unlikely to open any new sites until several of the current ones in the county are closed. If our landfill sites had to be closed because they were full, garbage would have to be trucked to other sites in the county. So the municipality is trying to improve their management to avoid costly trucking.
Dumpsters:
Contrary to what was said in the Council minutes reported in the press, removal is not a certainty at this time. The municipality has received a lot of phone calls and much interest has been shown on this issue. Dumpsters are cost effective, but staff spends a lot of time cleaning up around the dumpsters adding significantly to their cost.
There will be two meetings for public participation to express opinions of the proposed changes. They will be held on Wed., Aug. 26th, 1-4:00 p.m., and Wed., Sept. 21st, 1-4:00 p.m. People who cannot make the meetings could send letters to express their opinions.
There was a lot of discussion of the impact of removing the dumpsters and the impact on the bear problems. Ideas for better control of the dumpsters would be welcomed. It was mentioned that there are a lot of seasonal rentals and garbage can't be left until pickup. Some owners (Bill Shultz) do instruct renters to take the garbage with them when they leave, but this is not the universal practise. Carol Shultz mentioned that the old dumpsters used to have instructions for opening and closing, and would like to see them on the new ones. The mayor suggested that this request be included in the minutes as a reminder. Other options may include extension of the dump hours.
Randy Gulliver suggested that this topic would be better served by discussion at the public meetings. A poll of members present indicated the majority wanted the dumpsters to stay, while 3 would like to see them removed.
Recycling:
The mayor indicated he would like to improve the recycling program if possible. Curbside recycling is still too expensive because of the driving distances involved. This could maybe be looked at in the long term. Bill Shultz questioned the problem of the full recycling bins, especially cardboard, at Ferndale.
It was suggested that a new site might have to be opened. There are also recycling bins at the dumpsites.
Construction Traffic:
Gerry Fischer asked if there are guidelines for construction traffic related to road building/improvement.
He reported that his dog was killed by one of these trucks on Barnett's Drive and that they often travel through built up areas exceeding the speed limit. Could a dictated haul route or guidelines be included in future contracts with these companies? Carol Shultz suggested that Barnett's Drive has become uneven/wavy due to these trucks.
Beach Access:
Cassidy Weatherhead inquired about the change in beach access, private property, and no access at Bass Lake, Lindsay Rd. 20. Mayor McIver suggested it would be better to address this topic at the Lindsay Road meeting next weekend (July 18th?).
George Chester asked about creating or maintaining the public area at the south end of Miller Lake and the small park on Tammy's Cove. Mayor McIver suggested that the right of way at Miller Lake/Maple Ave was unsuitable because of the swampy bottom there. For maintenance of the Tammy's Cove area, requests should be directed to Marshall Tigert, Facilities Supervisor.
Liaison with Council:
Randy Gulliver asked if there was a liaison person who could act on behalf of seasonal residents at council meetings. Mayor McIver stated that while there was no such person, letters to council do get directed to the proper person for responses. Bill Shultz indicated that Land issues he had were answered satisfactorily in a matter of days. Mayor McIver said that concerns should be addressed to the staff. If they are not responsive, then a letter could be sent to council.
Road Paving:
East Road has recently been given a "double high float" to just past Barnett's Drive. Tammy's Cove Road received the same for 1KM. Both will require another light coat. The $3M infrastructure program that was shared 1/3,1/3,1/3 to pave to Dyer's Bay has been spent.
Ad-Hoc Committee:
An ad-hoc committee made recommendations to upgrade the Lion's Head arena. Council put in this $5.5M proposal to the federal/provincial governments as a 1/3, 1/3, 1/3 shared initiative program, but it was rejected. It would have included an upgrade to the arena, with a new hall, and been the new home of the Friendship Club and Library.
Improved Municipal Website:
A new provider is keeping the Municipal website up to date. It has been getting a lot of use. For zoning by-law amendments, see planning on the website. Note: for by-law infractions call Don Johnson. There will be open houses on Wed, July 15th, 3-7, and Mon, September 14th, 10-12 to review the drafts of zoning by-law and official plans housekeeping.
Local Integrated Health Unit:
There will be a new health unit building in Tobermory, with construction beginning this fall. The owners of the present building will not be involved. The Ministry has held up construction. The total cost for the Clinic will be $1.1 - $1.2 M., with North Bruce paying $350,000 over 5 years. A Hyperbaric Chamber is included in the plans for the new facility.
Payments in lieu of taxes:
Revenues from Federal and Provincial Governments have been less than we should be getting. Contacts have been made with both. The Federal Gov't is close to fair value, but the Province is lacking.
Hazardous Waste:
In Tobermory there will be a hazardous waste day on July 18, from 9-11:00. There will be one in our (Lion's Head) area in August or September.
Policing:
Residents of Tobermory have indicated that there is not as much policing as they would like. However the cost of adding another officer is $120,000. The Municipality's current cost is $740,000.
Miscellaneous:
Mayor McIver said there are currently about 25 full-time staff. The Municipality tries to contract out as much as possible. He reminded us that the position of Councillor is not a full-time position, and no one on council is retired. So it may be difficult to reach them during the day, but we can call them anytime.
Barry Walker closed this section of the agenda by thanking Mayor McIver for coming and giving us these updates.
Water Testing:
Gerry Fischer explained the water testing that he and George Chester performed as part of the Lake Partners Program with FOCA and the MoE. This testing was for water clarity and phosphorous content. They ran the 1st test and got a clarity reading of 3.1 meters. Samples were sent away for testing Phosphorous content. Anne Bastien requested that the results be posted on our website.
The topic of testing for e-coli was discussed. Apparently it has not been done since 2007. It was noted that the MoE has been reluctant to provide the sample bottles.
Moved by Barry Walker, seconded by Sue Halliday: The executive board will investigate the viability of having the testing done commercially, and have the authority to go ahead with this if the cost does not exceed $250.00. Motion passed. Action: Make inquiries at Summerhouse and Miller Lake Camp to determine any testing done by them, and who performs their testing. Contact commercial testing company(s).
Miller Lake Website:
Randy Gulliver gave an update on the changes and enhancements to the website www.millerlake.org .
Here are some of the new features that have been added:
n An ANNOUNCEMENTS space on the Homepage for timely news relevant to the group.
n A MESSAGE BOARD that will be password protected. Only members can post. It will be an ideal spot for buying, trading, selling, and griping!
n A LOCAL EVENTS schedule - from 'The Bruce Peninsula Press' - will be posted and updated in our NEWS section.
n An expanded WILDLIFE section with information on black bears, rattlers, ducks, conservation, etc. including links to other sites
n A GROUP PROJECTS page that will feature group initiatives, such as the Adopt-a-Road project.
n COTTAGE RESOURCES will feature contacts for local tradespeople and services.
Bears:
Barbara Chester passed along the regrets from the MNR for not attending the meeting as planned. They had phoned to cancel saying they were too busy handling encounters. They did say the sightings should decrease in the next week or two as the berries ripened and they would then go deeper into the woods. Phone numbers for contacting the Bear hotline are on the brochures that they had provided. The bear hunt is held in late September to early fall.
Gerry Fischer stated statistics show a 5-fold increase in incidents since the spring bear hunt was cancelled. In Manitoba where it was not cancelled, the number of incidents has remained the same. It was suggested that the association put pressure on the province to re-instate the spring hunt, but it was also noted that the Association of Anglers and Hunters are already doing that and they have a far stronger lobby group. Marlene Fischer gave a very good account of their encounters with the bears, and their experience with trying to get a suitable response from the OPP or the MNR.
Sensational Snakes:
This group was to give a presentation on Reptiles at Risk on the Road. Unfortunately they didn't arrive until the meeting was over, so they announced they would set up outside to give informal discussions, answer questions, and display several species of reptiles. This informal presentation worked well and the presenters were extremely informative. Snake-handling was optional.
MLCG Signs:
We do not have any more of the plastic encased signs made up right now. Action: Contact George Bowman (or George McKay) to see how they were made, and if they would be willing to make up some more.
Donation:
Maggie Vaivods proposed we donate $100.00 as a group to the hospital fund in Lion's Head. By a show of hands, this was carried.
The next AGM will be scheduled for July 24, 2010 at 10:00 am.
Moved by Gerry Fischer, seconded by Maggie Vaivods, to adjourn the meeting. Carried. The meeting was adjourned and members retired to the annual BBQ.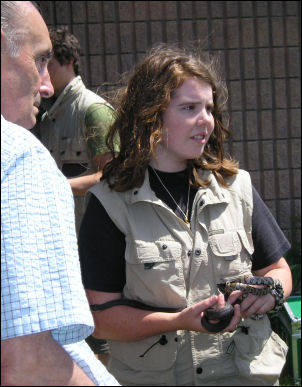 Reptiles at Risk volunteer answers questions for group members